CDs:
A Different Kind of Blue (click here)
Sketches of Miles(click here)

Jazz wise magazine:
4 star review for Sketches of Miles (click here)



MIlestones is a jazz group (formed in 2010) to celebrate the music of Miles Davis. The leader pianist Terry Seabrook has assembled a group of 6 musicians to perform the classic top-selling jazz album by Miles (Kind of Blue) which was was released Aug 17th 1959. The band have toured extensively at clubs and festivals around the UK.
In addition to the set performing the 5 tracks from Kind of Blue (So What, Freddie The Freeloader, Blue in Green, All Blues and Flamenco Sketches) Terry has written new arrangements of other songs associated with Miles such as Boplicity, Milestones, Nardis, Seven Steps to Heaven and Prince of Darkness) and a new suite (Sketches of Miles).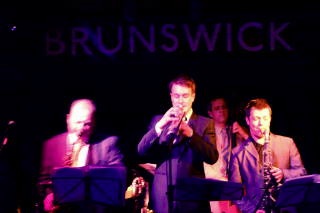 Milestones: First gig at The Brunswick, Hove

Left to Right: Alan Barnes (baritone and alto sax) Graeme Flowers (trumpet) Paul Whitten (bass) Ian Price (tenor sax)
(& not visible: Spike Wells on drums and Terry Seabrook on piano.)